Window Mart - More than Enough Choices of Plantation Shutters and Blinds
Plantation Shutters & Blinds
+ Doors & Windows Replacement
Window Mart Shutters & Blinds
Local family run business, supplying and installing shutter blinds of all types. Very competitive rates and discounts available on request. Window Mart supply and install an extensive range of plantation shutters and blinds; with varying colours and styles, there's something to suit every property, all of which blending seamlessly with the existing decor of any room of your home.
The plantation shutter and blinds installed by Window Mart provide a fantastic improvement to the windows and doors  in your home.  The benefits of shutter blinds are almost never-ending; offering flexible light control and increased privacy, the tilting louvers provide the perfect facade for any room. Waterproof and UV resistant, these shutters are a particularly great investment for kitchens, bathrooms, and all windows.
Plantation Shutters & Blinds free quote
Request your free measure and quote today, where we can answer all of your questions, and offer advice and solutions for any plantation shutter and blinds requirement.
Our custom made-to-measure shutters are available for any style, design, and shape of window, in a choice of colours, louvre widths, and configurations. From our expert advice during your initial consultation, through to professional fitting come install time, there are plenty of reasons to choose Window Mart Blinds & Shutters. Get in touch with us today >>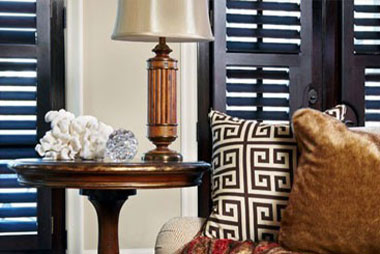 Contemporary, stylish and sleek, with plantation shutters, you can't go wrong! Offering both privacy and light control, plantation shutters are the perfect alternative to heavy curtains.
With a vast selection of styles and colours, there's a perfect match for every property. You'll be left with window shutters that go above and beyond expectations, both in appearance and practicality.
Our expert team of in-house surveyors and fitters as well as the office staff are highly trained and will guarantee to make the measuring and fitting process seamless, professional and hassle free, a rarity in this market.
Window Mart Shutter & Blinds is a local family-run business that provides a fast, reliable, and convenient service with great communication throughout and always happy to discuss any enquiries you may have. 
Happy customers are one of those four pillars that help in building the Window Mart Shutters & Blinds business. We feel contented when homes of the people get furnished with our quality products.
"Was recommended by a neighbour and they lived up to our expectations."
"So glad we chose these guys, was a pleasure from start to finish."
Plantation Shutters and Blinds in-home design consultation
Window Mart's buying experience is a pleasant three step process, and it all begins with an email enquiry or a  phone call. 
Our specialists will discuss our range of plantation shutters and blinds to suit your style, needs, and budget, and provide you with your free quote.